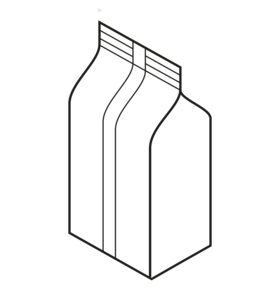 Corner creased
A highly functional and attractive bag that stands.
Uses include: All industries, Coffee, Cookie/nut, candy, powder, Pet food, pulses, ...
Advantages: Prominent on-the-shelf and atractive look, cheaper manufacturing costs then Quad seal
Add-ons: Label, Tin Tie, Press-to-close or pre-applied zipper, Euroslot or round hole punch, Cary handle, tear notch, vent tape, perforation, de-gassing valve, ...